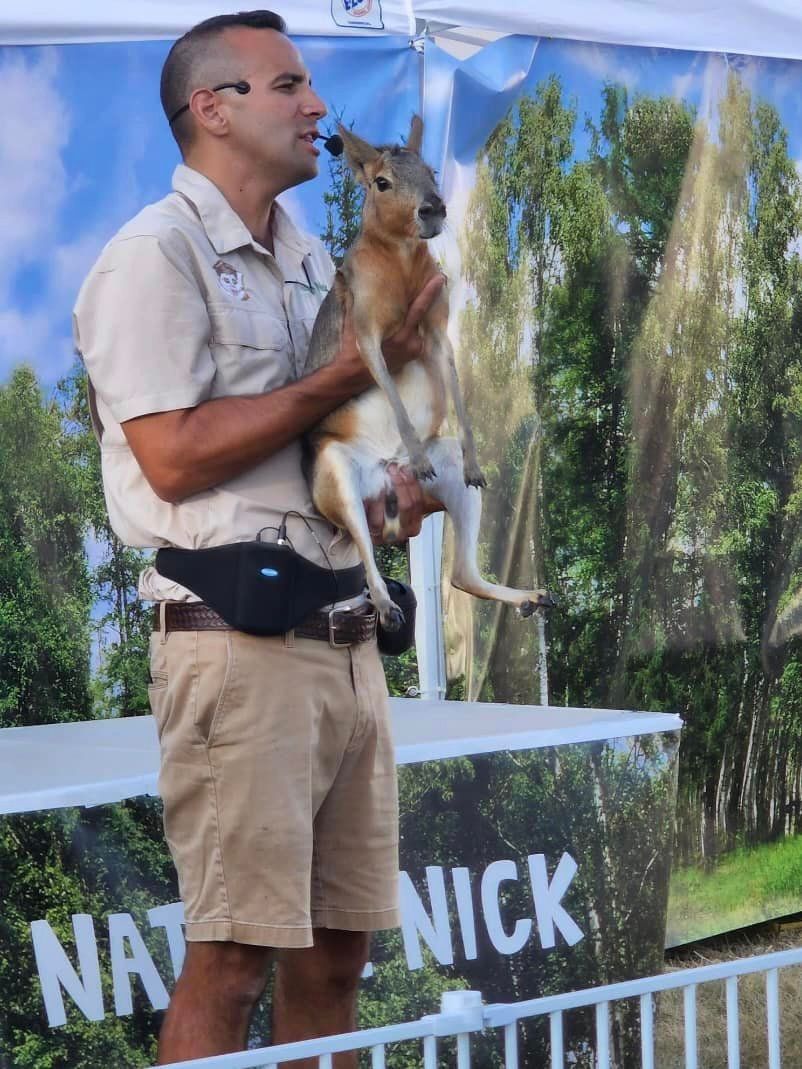 Nature Nick's Animal Adventures
Growing up in the pine barrens of eastern Long Island, Nicholas Jacinto has always had a fascination with the natural world. By age 5 he was collecting box turtles and snakes in vivariums set up in his bedroom. By 10 his collection grew to include birds, ferrets, chinchillas, rabbits, fish, and reptiles.  By age 14 he caught the eye of international animal expert, Marc Morrone, who immediately cast him on an animal segment of The Martha Stewart Living Show.

After achieving Bachelor's degrees in Childhood Education, Special Education, and Speech Communications, Jacinto created his wildlife show entitled Nature Nick's Animal Adventures. His formal training and long-time friendship with Morrone allowed him to secure exotic species which had rarely before been seen in mobile animal shows.

Jacinto, is now a federally licensed master animal handler. His permits now allow him to work with native wildlife, dangerous wildlife, and endangered species. He is also licensed to breed and propagate dwindling species.

His unique qualifications and expertise has put him high in demand as a consultant for zoos, wildlife centers, and he routinely works on any TV shows and movies where exotic animals are needed.

Touring the country in a custom RV, he and his menagerie frequently appear at fairs, expos, nature centers, schools, and libraries across the country. He is regularly highlighted on TV programs such as The Today Show, Good Morning America, & PIX 11 News. He is the resident animal expert for Good Day New York.

Between a brutal touring schedule, Nick and his wife Maria split their time between a home in Long Island New York and Vero Beach Florida.

Please don't hesitate to reach out to learn more about Nick or to book him for an upcoming party or event.


Frequently Asked Questions
 

What types of animals do you bring to your shows?
We bring a diverse collection of exotic animals to our shows, including mammals, reptiles, and birds. Some of the animals you may see at our shows include
owls, falcons, snakes, baby alligators, foxes, armadillos, turtles, and more!

Are your animals safe for children to interact with?
Yes, our animals are well-trained and safe for children to interact with under the guidance of Nick and our experienced handlers. We follow strict safety protocols and take great care in handling and transporting our animals to ensure their safety and the safety of our guests.

How long do your shows typically last?
Our shows typically last between 45 minutes to an hour, depending on the specific needs of your event.

Do you offer shows for events other than birthdays?
Absolutely! We offer our shows and entertainment for a wide range of events, including school assemblies, corporate picnics, summer camps, day camps, fairs, festivals, and more.

What areas do you serve?
We serve the Long Island area, as well as parts of NY, CT, and NJ. Contact us for more information on our service area.

How far in advance should I book a show?
We recommend booking your show at least two weeks in advance to ensure availability.

What are your rates?
Our rates vary depending on the type and duration of the show, as well as the location and number of guests. Please
contact us
for a customized quote.

What happens in the case of bad weather or unforeseen circumstances?
We understand that sometimes unforeseen circumstances can arise, and we will work with you to reschedule or cancel the show if necessary. We also follow strict safety protocols in case of inclement weather or other emergencies.

Interested in Booking Nature Nick for Your Next Event?
Contact us today for pricing and availability.